latest news + announcements
PRINT DAY IN MAY
A FREE COMMUNITY DAY EVENT
AT THE SONOMA COMMUNITY CENTER PRINT STUDIO!
SATURDAY MAY 6TH, 2023
For the second year in a row, we are excited to bring you a day of hands on, public art making at the Sonoma Community Center print studio celebrating Print Day in May!
"Print Day in May is an annual, global celebration of printmaking taking place on the first Saturday in May and is open to all. On this day, tens of thousands of printmakers around the world make prints and share their experiences with others."
Together, with my fellow instructors and local printmakers at the Sonoma Community Center, we will be demonstrating and collaborating in print using some of our favorite techniques. We hope you will come out to celebrate your love of art, and print live with us! Visit our Sonoma studio on a day when printmakers worldwide get their print on! 🌎
FREE AND OPEN TO THE PUBLIC
Time: 10 am to 4pm on Saturday, May 6th, 2023
Location: 276 East Napa Street, Sonoma, CA - Second floor, room 208
Family friendly, free parking, and take home some free prints!
FOAM PRINTING WORKSHOPS
Learn foam printing with me this Summer at the Sonoma County Libraries! I'm excited to lead these beginner print workshops in several branches throughout Santa Rosa and Windsor.
In this beginning printmaking workshop, learn to use foam plates to make relief prints without the use of a traditional printing press. You will experiment, play and explore a variety of ways to draw lines, make marks and cut shapes out of soft foam plates to create a unique print on paper! This class will include both demonstrations and hands-on time with water-soluble inks to make art that you can take home and enjoy.
No experience is required
Teens, adults and seniors are welcome, admission is FREE!
Registration opens May 1, 2023
June 14, 21 and July 8, 15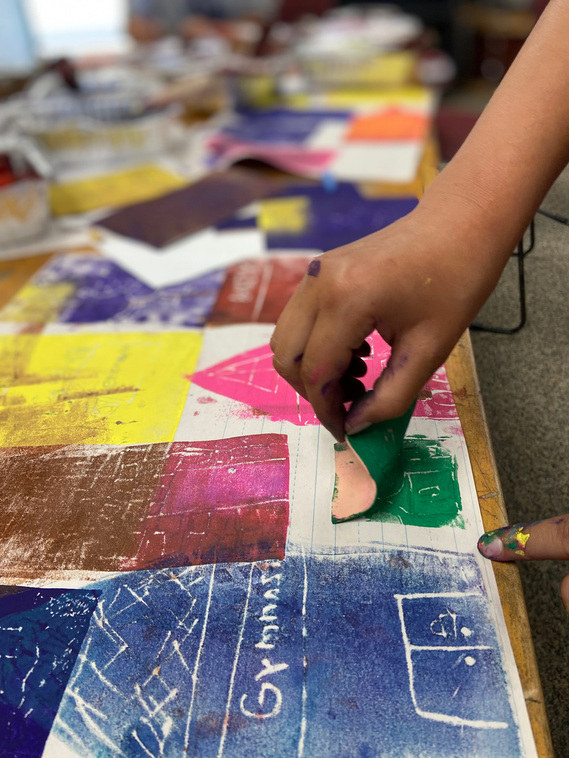 "Odd Bird" at the COMPOUND GALLERY'S BRUSHED show
I was pleased to participate in this unique group (object-based) show of work inspired by and made of the ubiquitous paintbrush, curated by my friend Courtney Cerruti. My sculpture "Odd Bird" was on view at the Compound Gallery through October 16th, 2022.
"After School" in ARTS BENICIA'S "35 x 35" group show
One of my latest mixed media prints, "After School" recently showed in Arts Benicia's special celebration of 35 years. This rare group showcase featured regional masters and their chosen emerging artists in the historic Benicia Arts district which was on view thru October 30th, 2022.
head over to Instagram to see what I've been up to lately...
SUBSCRIBE TO MY MAILING LIST
Sign up with your email address to receive news and updates.