My studio practice includes my work as a Teaching Artist where I am a guest printmaking instructor throughout the Northern California Bay Area. My introductory workshops range in age from youth to adults. I tailor lessons to support beginners on their artistic journey, as well as work with experienced artists who are interested in learning exciting new techniques! If you are interested in attending or booking a workshop or artist talk, please reach out to me directly, I'd love to hear from you!
BEGINNING GEL PRINTING
Explore this hands-on, playful Gelli plate monotype method that will encourage your creativity to flow and flourish. Learn to make one-of-a-kind prints without the use of a mechanical printing press!
This fun workshop will teach you how to layer water soluble acrylic using a variety of techniques and tools to create vibrant abstract works on paper. Experiment with textures and basic masking techniques using repurposed fiber, plants, stencils, discarded packaging materials and more! This is a great class for beginners or even more experienced artists who are interested in learning a new technique. Come and experience the joys of Gelli printing and leave with a stack of beautiful prints!
SONOMA COMMUNITY CENTER
TWO DATES OFFERED!
Saturday August 12, 2023
10:00 am to 1:00 pm / SOLD OUT
Saturday August 12, 2023
10:00 am to 1:00 pm
Age 16+, Beginner Level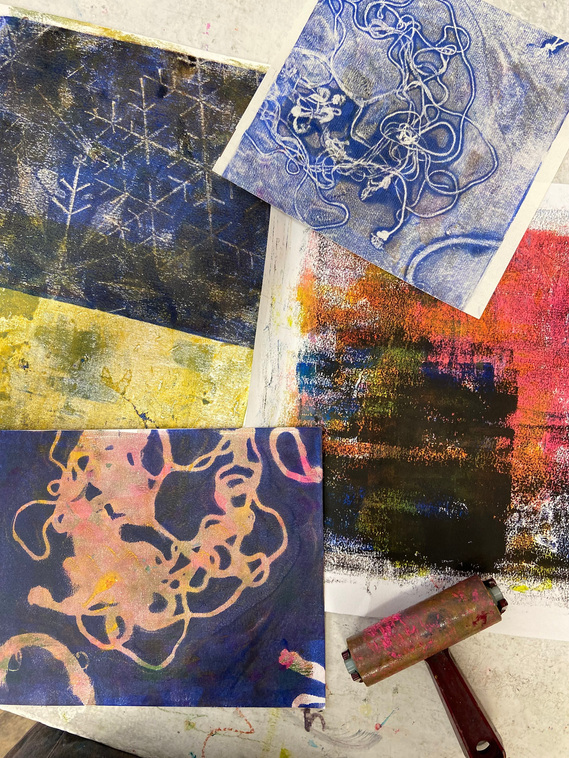 INTRODUCTION TO PRINTMAKING
What exactly is printmaking? Come explore and find out!
Join me in this unique introduction to print through the world of monotype, relief, intaglio and stencil printing. My popular one-day workshop has been extended into four short evening sessions to introduce you to the basic techniques of four classic methods of printmaking. You will walk away with a basic understanding of each method our Sonoma studio supports within the family of printmaking and explore how you can join our open studio!
SONOMA COMMUNITY CENTER
Mondays, beginnning October 2 - 23rd, 2023
5:30 to 7:30 pm
Age 16+, Beginner Level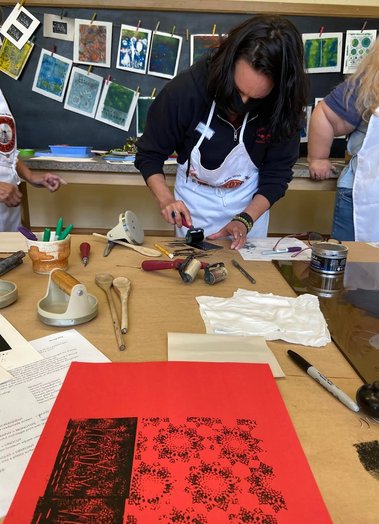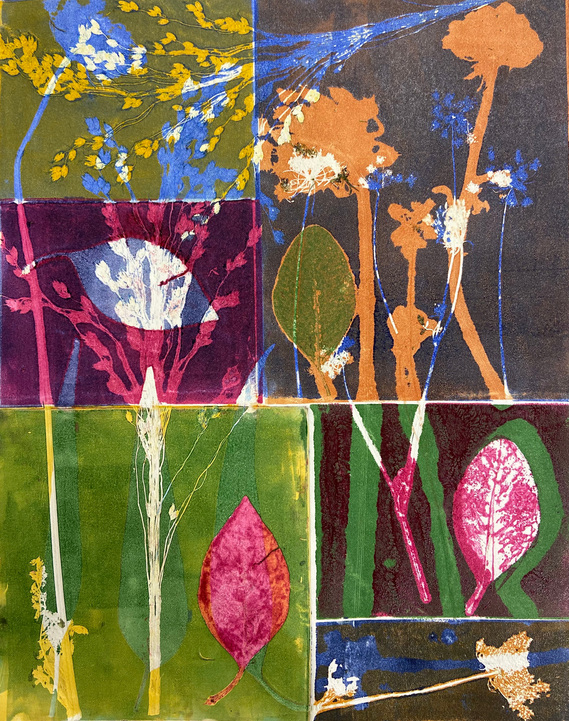 EXPLORING BOTANICAL MONOTYPES
Join me in this popular, one-day experimental monotype printmaking workshop where you will learn to make stunning, one-of-a-kind botanical prints inspired by the natural world.
I will show you some of my favorite techniques on the printing press to achieve colorful compositions using real flora as stencils through simple layering and masking. Guests will be invited to use a variety of fall foliage and preserved botanicals. I will also discuss and demonstrate how to add dimension to prints by applying a variety of mixed media.
This is a great workshop for beginners or even experienced printmakers interested in learning a beautiful new technique. If you love plants, and you've always wanted to try monotype, this class is sure to motivate and inspire you!
ARTS BENICIA ANNEX
Sunday, October 22, 2023
11:00 am to 3:00 pm
Age 18+, Beginner Level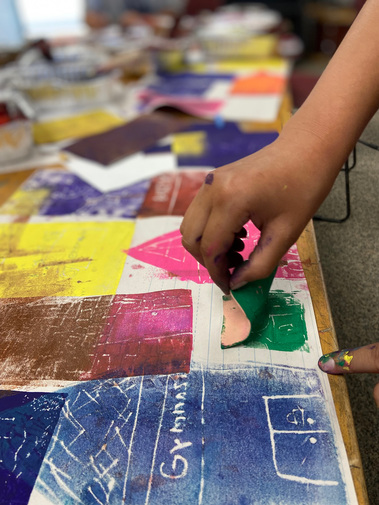 FOAM PRINTING WORKSHOPS AT THE LIBRARY!
Learn foam printing with me this Summer at the Sonoma County Libraries! I'm excited to lead these beginner print workshops in several branches throughout Santa Rosa and Windsor.
In this beginning printmaking workshop, learn to use foam plates to make relief prints without the use of a traditional printing press. You will experiment, play and explore a variety of ways to draw lines, make marks and cut shapes out of soft foam plates to create a unique print on paper! This class will include both demonstrations and hands-on time with water-soluble inks to make art that you can take home and enjoy.
Teens, adults and seniors are welcome, admission is FREE!
Registration opens May 1, 2023
June 14, 21 and July 8, 15